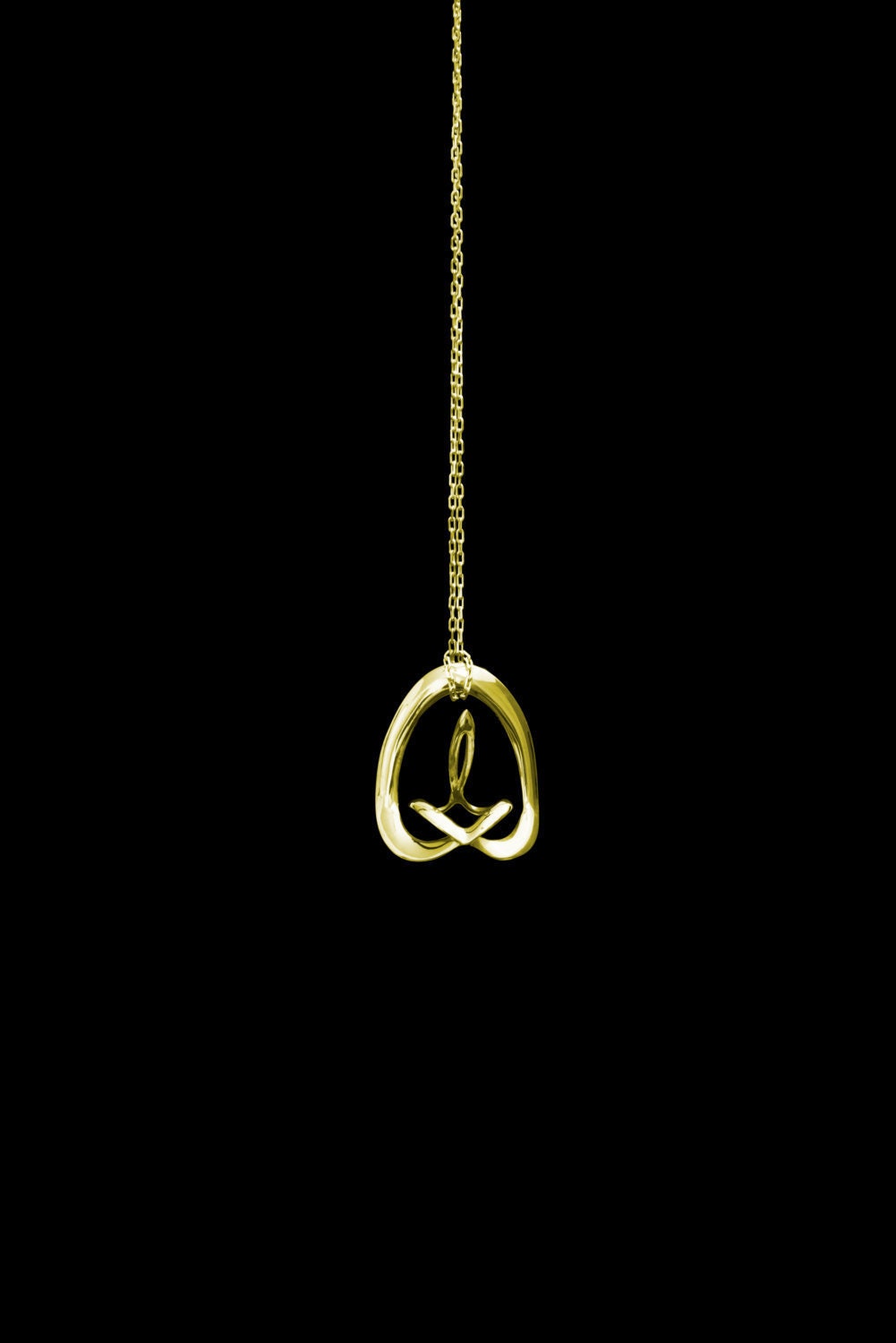 "Kindle" | Soundstill Series | Fifth • Octave

2.4cm quality 14 karat gold pendant, mirror finished by hand, with 18" 14k gold chain.


Soundstill Series: A celebration of music, the universe, and the symbols of man.

If a musical chord could be seen in space, it would take these shapes.
Each piece in the Soundstill Series is named according to its sonic analogue.

Rendered in flowing mercurial line, a calligraphic dance around a void, each angle of each piece tells a story.

Carefully guarded symmetries reveal themselves with sometimes startling immediacy and the images evoked are myriad, from atomic to celestial, to figures and faces.


"Kindle" is grounded and cyclical, with a glyphic simplicity.


The Fifth - This set is defined by the two most consonant of harmonic intervals: The Perfect Fifth and the Octave. This arrangement, though not a true chord, is esteemed fondly in rock and roll as the Power Chord.


Gold came into being by way of the most powerfully explosive energy events in cosmic history. Capture the Harmony of the Spheres, as wrought through the rarest matter it produces.

•

These unprecedented forms are inspired by the harmonograph, a device from early in the last century which used swinging pendulums attached to drawing tools to visually depict harmonizing musical tones.

Advances in computer modeling technology have facilitated the translation of this process to the third dimension of space and of sonic harmony.

Each piece is first cast from a 3d printed wax form and then hand-polished to a wet shine.

•

Find in our ever-evolving collection the piece that speaks to the musician, the poet, the scientist, to the seeker in your life or in yourself.


Thank You
Payments
We accept credit and debit cards. If you would like to pay by check, please contact us.

This is a Florida-based business, so shipments to Florida will have a standard sales tax added based upon your zipcode.


Shipping from United States
Shipping is always insured at the value of the item. Immediately following purchase, your order will be processed and when shipped, a tracking number will be e-mailed to you.
Refunds
Production quality is of utmost importance. Please contact us if a product arrives damaged.
Additional
We feature photographs in different lighting conditions and sizes and descriptions of items in order to best convey the look and feel of each product. Please don't hesitate to ask any additional questions.